Sneed Yacht Charters.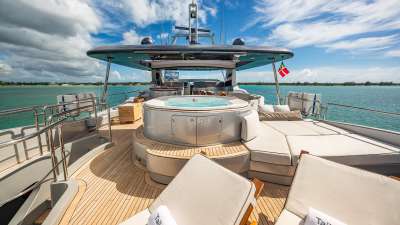 CREW PROFILES
Title
Name
Nation
Born
Licenses
Captain
Steve Kemp
American
0
USCG Masters, STCW
0
Number of Crew: 6
Languages: English
Crew Profiles:
Captain Steve Kemp – American
As a 16 year veteran in the yachting industry, Steve possesses a well-rounded and highly refined program proficiency. Captain Steve and his crew aim to provide guests with the highest standard of guest services from trip planning, hospitality to guest activities. As well, Captain Steve insists on running the safest possible charter program. This "safety conscious state of mind" will always provide his guests with a worry-free environment. Regions traveled are Seattle, Vancouver, US West Coast, Panama Canal, US East Coast, New England, Great Lakes, Bahamas and Caribbean.

Greg Bergeron, Chef, USA
Chef Greg, a Vermont native, used cooking as a way to expand his horizons through travel and enrich his culinary skills working along side today's most talented chefs. He spent summers on Martha's Vineyard perfecting his fresh pasta and learning to source the freshest local seafood and farm fresh produce. Spending winters on Long Island and Vermont, he focused on honing his skills to cater to client's specific needs while creating a lasting experience for all his guests. During the rare moments he's not in the kitchen, Greg can be found skiing, hiking, fishing or on the beach with a good book and a glass of wine.

Engineer/Mate - Jeff Marshall - American
Jeff is a seasoned mariner with over 10 years' experience . Jeff served in the U.S.Coast Guard for 4 years as electrician aboard ship. He has a strong back ground in marine engineering and electrical systems. Jeff spent several years working on a commercial dive charter boat in the Bahamas where they would have diving enthusiasts aboard doing 4-5 dives per day. He is also a licensed captain and brings a variety of skills to his current position as chief engineer aboard m/y TAIL LIGHTS, where he joined the yacht early 2016. Jeff was involved during the refit period completed at the Azimut yard in Viareggio last year, where underwent a six-month extensive refit.

Jack Kemp 2nd Mate, USA
Jack loves serving with the crew aboard M/Y Tail Lights! It presents a perfect blend of sea travel and excellence in service. His mariner background includes multiple years engaging diverse elements including military vessels, ship husbandry, military diving operations, sailing regatta crew and an array of pleasure craft. Seaworthy and a trained professional in diverse and demanding environments, Jack is a certified mariner. He is accustomed to high standards of vessel upkeep, client service, passenger safety and situational fluency in multitude of settings. With his military diving and watercraft background, his exposure includes the Great Lakes, Gulf of Mexico, Caribbean Sea, Atlantic Ocean, Red Sea, Gulf of Aqaba, Indian Ocean and other international waters.

Katie Saunders, Chief Stewardess, USA
Katie is thrilled to have you aboard M/Y Tail Lights! Katie is from the beautiful state of Virginia and has a small town charm with big world experience. Her journey began early on, with various experiences in hospitality all centered around travel. Her love of the ocean was a call she answered while living on the island of St. Thomas for two years. The island provided an array of experiences as she managed the region's number one restaurant, The Old Stone Farmhouse. Soon after she realized that the vast open ocean had much more in store for her. Katie's eye for detail is catered to creating the most special moments and feeling of ease when you step on board. Her knowledge expands to all areas of pleasure seeking. From wine and cocktail knowledge to facilitating your unique request. It is her mission statement that people are her passion and you will leave knowing that without doubt.

Christina Wilson 2nd Stewardess, USA
Born in Houston, Texas, Christina's passion for the ocean developed over many years spent working and studying on the eastern and western coasts of the United States. Her sense of adventure began at an early age but has grown after serving in the U.S. Army as well as working and studying in Central Asia and the Middle East. Christina is a world traveler and her warm spirit and positive attitude travel with her. She possesses tremendous attention to detail and service acquired from her time in the military and experience in Washington DC's restaurant industry. She is excited to bring her caring nature and love of exploration to your Tail Lights experience.
Sneed Yacht Charters.