Sneed Yacht Charters.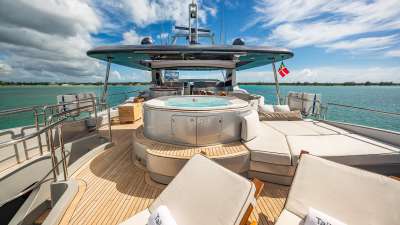 CREW PROFILES
Title
Name
Nation
Born
Licenses
Captain
American
0
USCG Masters, STCW
0
Number of Crew: 6
Languages: English
Crew Profiles:
Captain - TBA
Chef- TBA
Deckhand - TBA

Engineer/Mate - Jeff Marshall - American
Jeff is a seasoned mariner with over 10 years' experience . Jeff served in the U.S.Coast Guard for 4 years as electrician aboard ship. He has a strong back ground in marine engineering and electrical systems. Jeff spent several years working on a commercial dive charter boat in the Bahamas where they would have diving enthusiasts aboard doing 4-5 dives per day. He is also a licensed captain and brings a variety of skills to his current position as chief engineer aboard m/y TAIL LIGHTS, where he joined the yacht early 2016. Jeff was involved during the refit period completed at the Azimut yard in Viareggio last year, where underwent a six-month extensive refit.

Sandra Murphy- Chief Stewardess- Irish
Born in Boston and raised in Southern Ireland, Sandra always had a passion for the sea having grown up in Kinsale, a small quaint fishing village known for its large yachting marina. Craving to see more of the world after studying for a degree in interior design and architecture, she set sail for life on board the world's finest super yachts. Having worked as a waitress for six years, Sandra is not only well versed in cocktail-ology, but also possesses a bubbly, caring and courteous nature. Sandra is ready to pamper guests and bring her old Irish charm to the exquisite interior department, along with her passion for the open water.

Lisa Murphy 2nd Stewardess – Irish
Lisa was born in Co Cork Ireland, in a small harbored village called Kinsale. At the age of 20 she packed her bags and went straight into the yachting industry. She combined her passion for traveling and love for the ocean into one and has not looked back since. Previously Lisa has worked aboard M/Y Baton Rouge in the Mediterranean and Caribbean. Joining on this summer season, she is now excited about her new endeavors aboard motor yacht Tail Lights. Lisa has been in the industry for six years now and enjoys it very much. Her Hobbies include surfing, soccer and swimming.

Sneed Yacht Charters.