Bahamas Yacht Charters by Sneed Charters
Sneed Yacht Charters.

(800) 581-7130 / (561)459-5316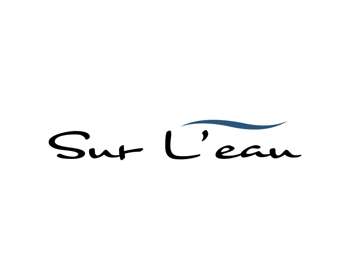 Previously named LADY ALLIUARA

SUR L'EAU GUESTS COMMENTS
March 2021 Bahamas
The vessel and crew were excellent. We had beautiful weather everyday. The crew was 100%. They were over the top accommodating. I have zero fault in the trip. I loved it and the whole trip was GREAT! Thank You.
Marc

Christmas Charter
Dear Alex, Rick and Nikie,
Thank you all for a most amazing week aboard the Sur L'eau. We all had the best time sailing to St Maarten and St Barths, relaxing, eating and drinking! Your hospitality/service was incredible, everything was perfect!! This week away for us was so needed during the pandemic. Sail on and thanks again for an amazing week.
Love Leni, Mitch, Adam, Ali, Seth and Hayden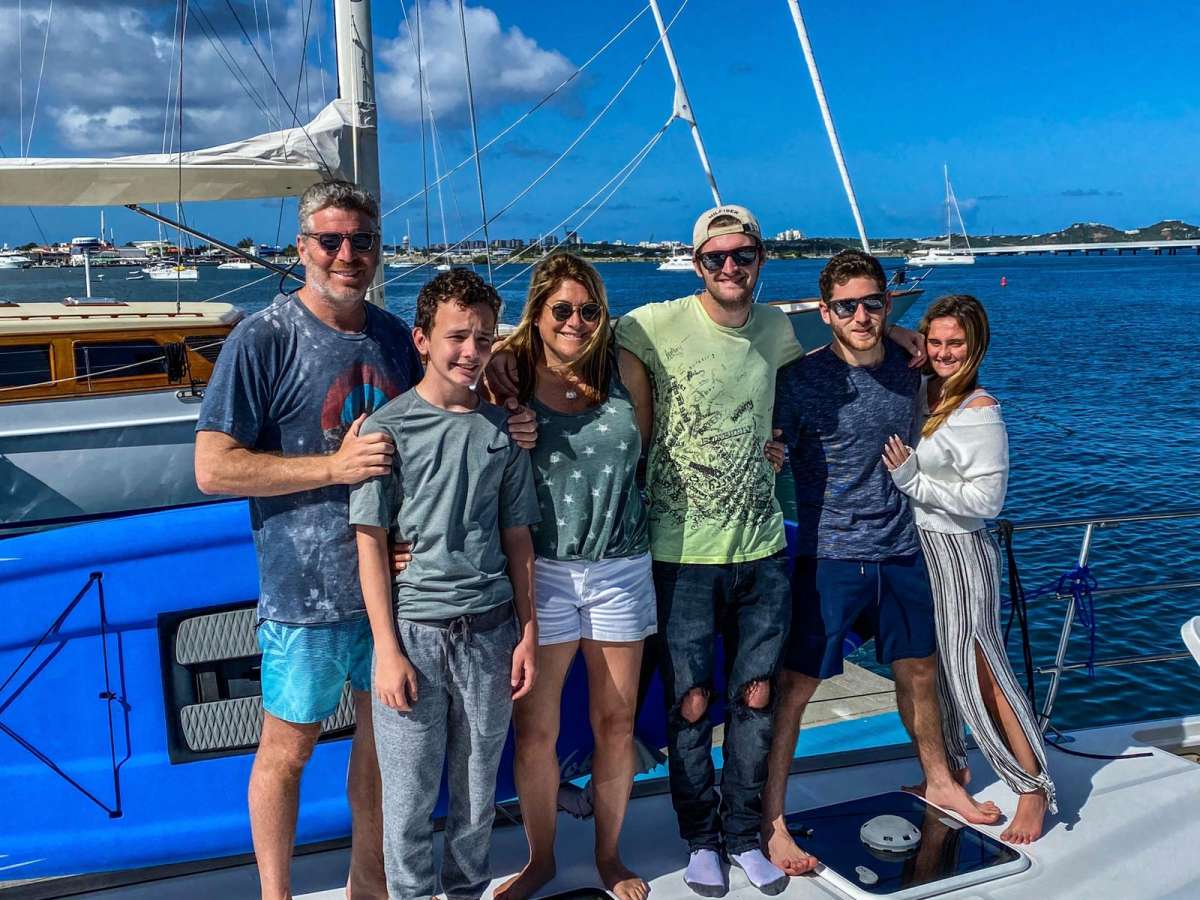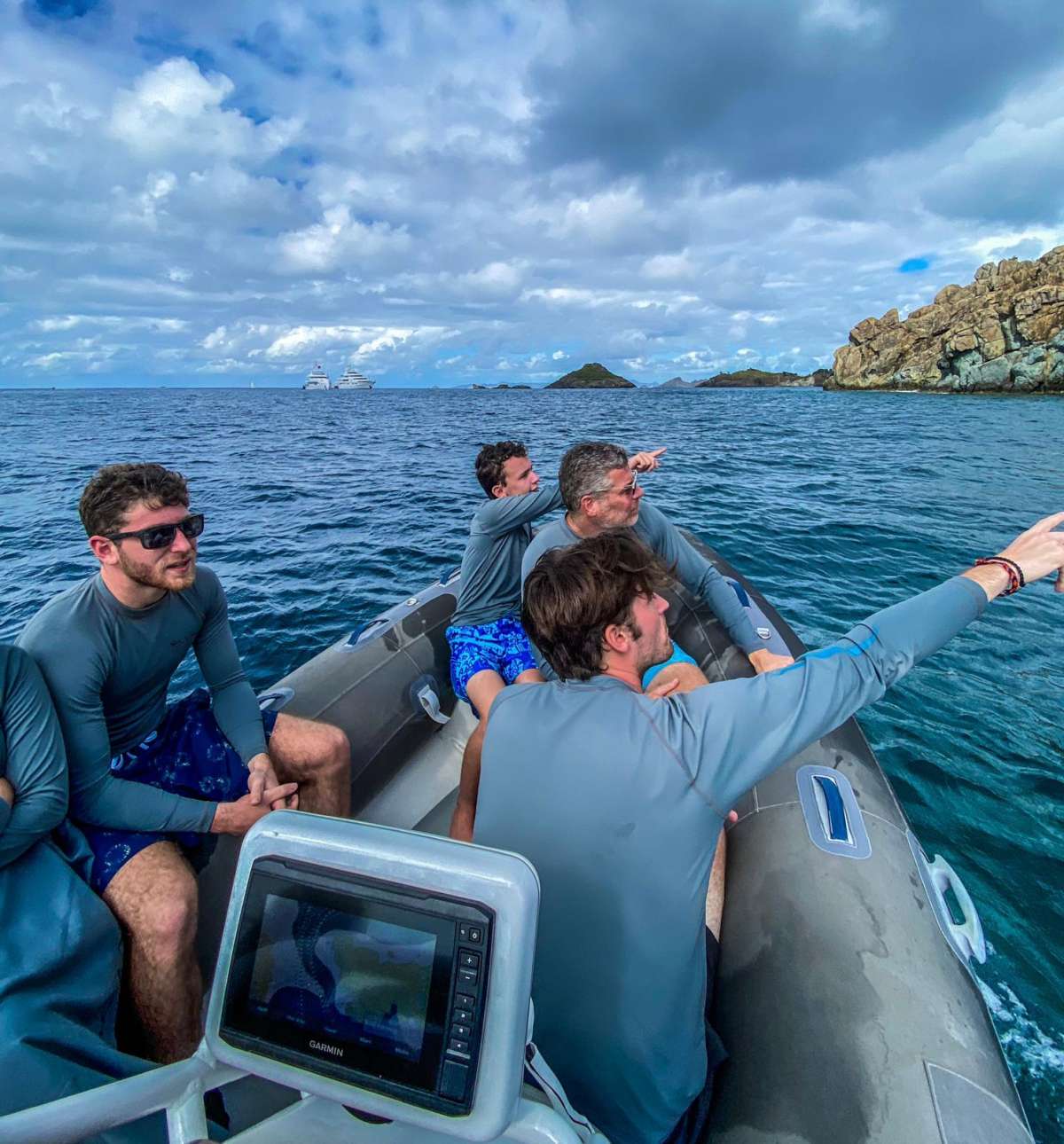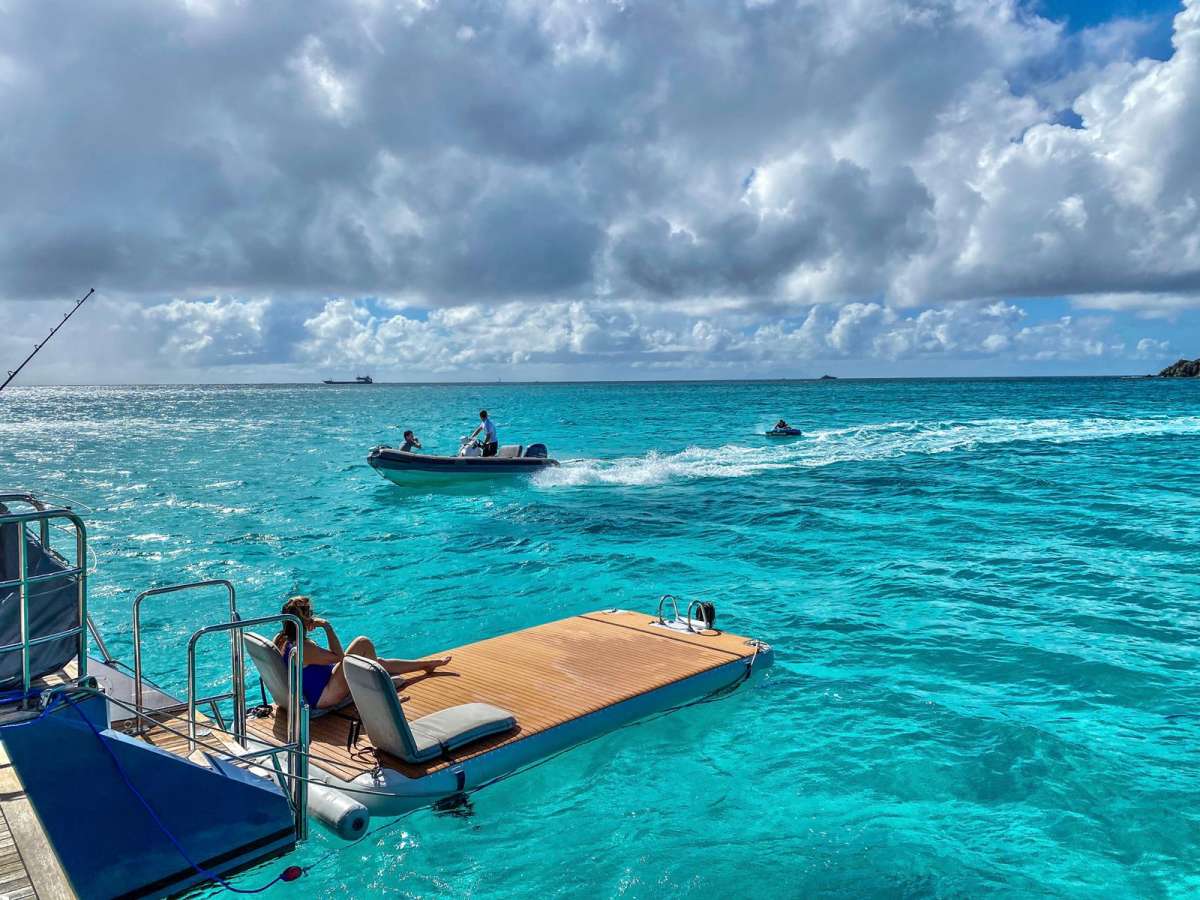 February Charter Grenada To St. Kitts
I was recently onboard the Sur L'eau for a trip from Grenada to St. Kitts. I am writing to tell you about my experience on the trip in hopes that it might assist you with suiting travelers with the boat.

Unfamiliar with this type of travel, I wasn't sure what to expect and somewhat anxious but I was amazed at the accommodations, activities, and hospitality on the boat. Whether underway or on anchor, the 4-member crew was attentive to make sure all of Sur L'eau's amenities were available for our pleasure. It was obvious they had planned ahead for every event but weren't so rigid that they didn't take advantage of entertainment they thought we would enjoy. Advanced planning was evidenced by live entertainment onboard for birthday and anniversary celebrations, while alterations to the schedule allowed us to take in a blues festival on Mustique and a jazz festival on Bequia. It is this type of engagement with the guests and attention to the guest's experience that sets this crew apart. Other excursions included lobster BBQ lunch on the beach, waterfalls, lunch on St. Lucia in view of the Pitons, shopping excursions, tour of a chocolate factory, boat ride up Indian River and I'm sure I've forgotten some others.

Dining is always a big part of a vacation and I have to say the chef on this boat did a fantastic job. Each and every meal was well prepared. Lunch prepared with a tuna caught while traveling between the islands was greatly appreciated by the guests.

Lastly, I would like to point out the size of the amenities in the staterooms. The bed, along with the shower, restroom and stowage were a very nice size, able to accommodate us very comfortably.

All in all, I can't think of a thing I would change about my trip or the way these guys manage the boat and the guest's experience.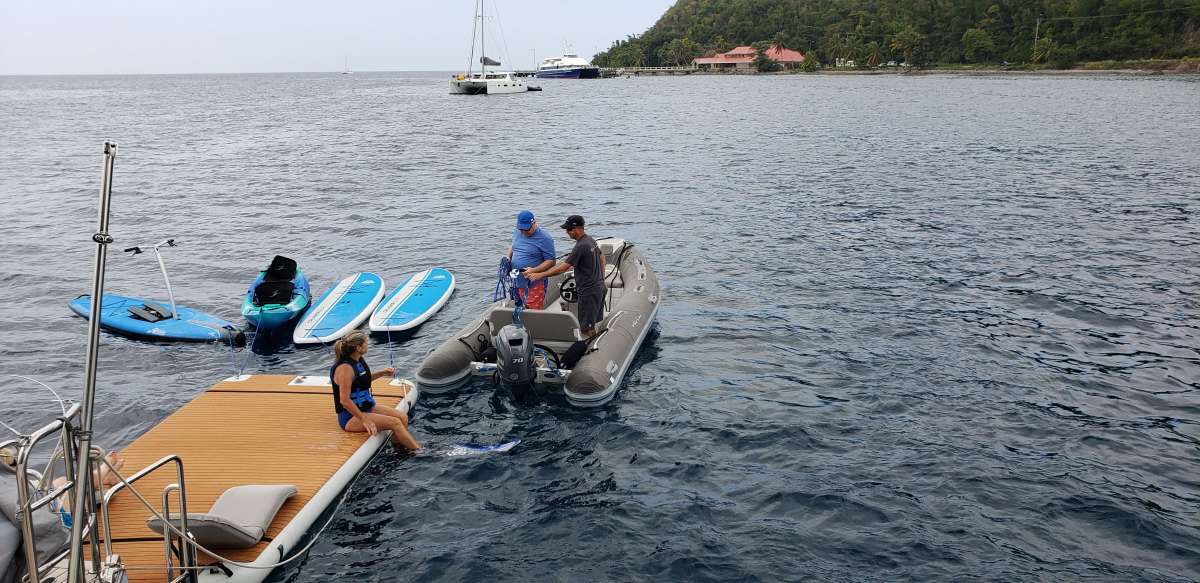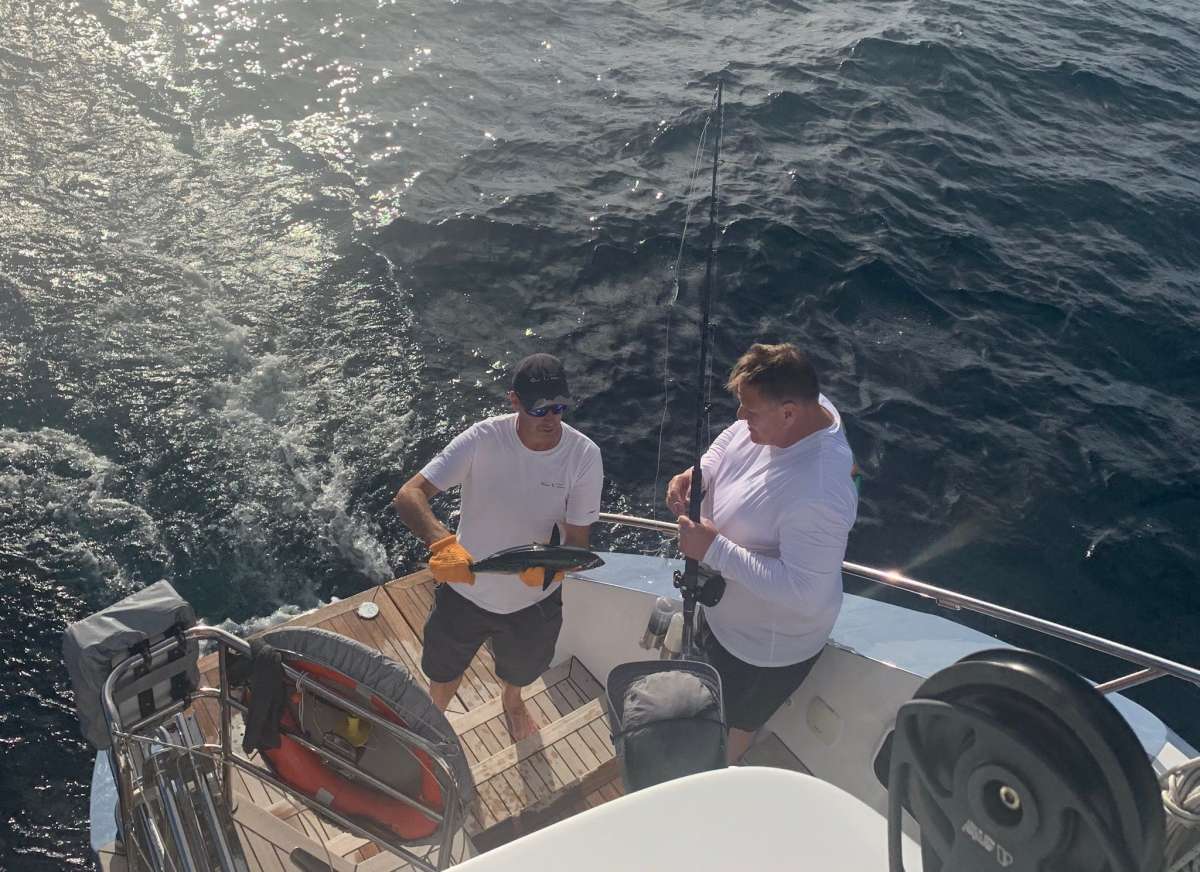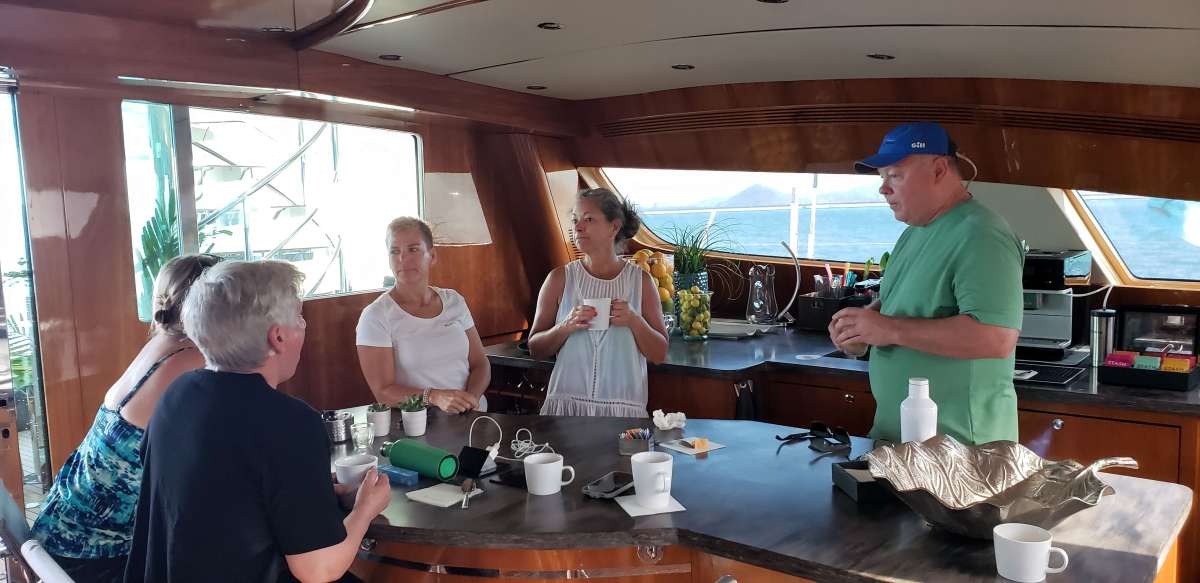 January 2020 The Grenadines
Feedback to their broker:

"Our trip was spectacular! We had high expectations and those expectations were surpassed. It was truly an amazing and idyllic trip.

The yacht was clean (sparkly!) every day, decorated beautifully (beyond perfect), with amazing space that we all used as we wished and loved every inch of it. We all used the beanbag chairs throughout the trip at various times and all over the boat. And the hammock was a lovely surprise that we all sat in. The couches and settees everywhere were comfortable and we all used them in various places depending on the weather and our need to be in or out of the sun. There were excellent water sports available and we used them all! We snorkeled, went wake boarding and tubing behind the zodiac, paddle boarded and kayaked and used the Hobie paddle boards as well (my mom LOVED those things!). And, we floated and had fun on the rainbow unicorn and pink flamingo floaty toys. Great fun. The swim platform was very handy and fun to sit on as well. The towels to dry off were clean and fluffy and always available as we emerged from the water. And, they were often WARM for us at just the right moment.

The crew was beyond attentive. We felt like royalty! The service was spot on and friendly. The crew was there when we needed them and invisible when they sensed we should be alone. They were friendly and kind and fun. They seemed to know what we needed when we needed something.

The food was amazing. The chef worked magic with the food and knew exactly what we liked! She was particularly attentive to my food restrictions and always prepared something a little different for me, but along the same lines as what she served everyone else. We ate so well and loved every bite! And, it was nutritious and the plates were always very pretty. As was the table! A different beautiful table setting for every meal. Everything was better than expected and I can't imagine how they could improve on anything.

And, the wine and cocktails were spectacular! We enjoyed delicious wine with our meals and a fun, unique cocktail every day at cocktail time.

We were celebrating several milestone birthdays and they surprised us with a fun, decorated yacht upon our return one afternoon, along with a special dinner for the celebration. And, the chef made a special birthday coffee cake for one guest on our last morning for breakfast. She was incredible.

I don't think I could gush any more about our experience. It was perfect. I would go back tomorrow if I could, and I know all of my family feels the same way. I would highly recommend this yacht along with the amazing crew to anyone wishing an amazing yachting experience in the Caribbean.

I'm glad they loved having us as much as we loved being with them all week."



2019/20 New Year's Charter
The Crew of Sur L'eau,
Thank you for a wonderful vacation! Everything was amazing and we enjoyed getting to know all og you. We hope we can do another trip with you all.
-The Caress Family

We had such a great time! Thanks for everything
- Hailey

Thank you for an amazing
- Cole

Thank you for an amazing for vacation
- Callie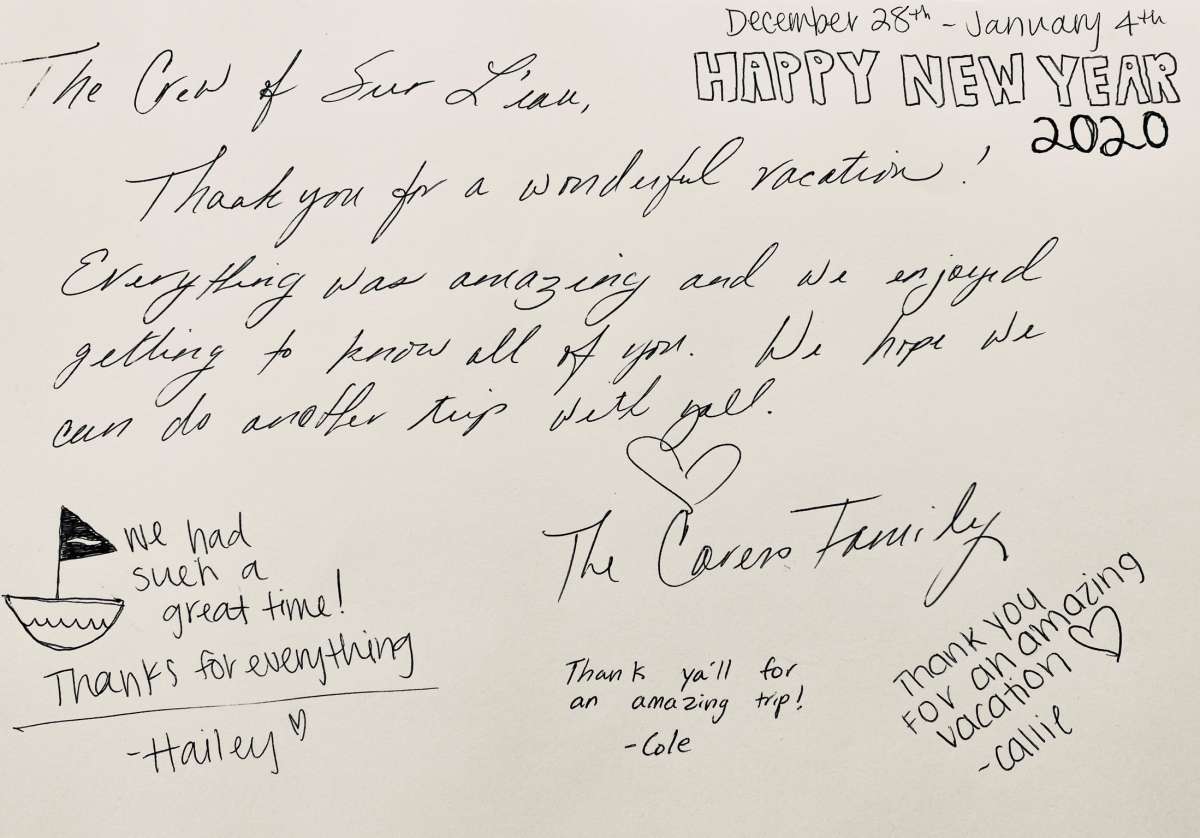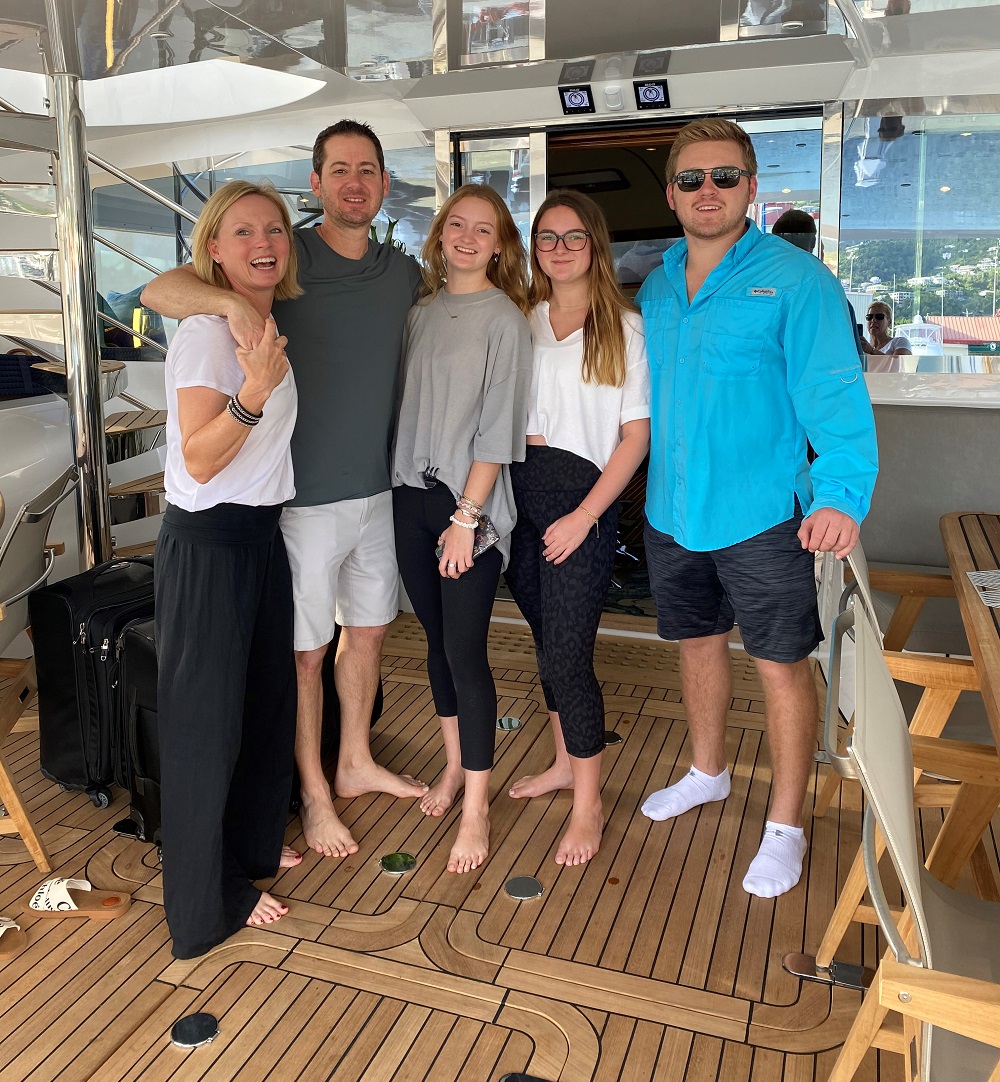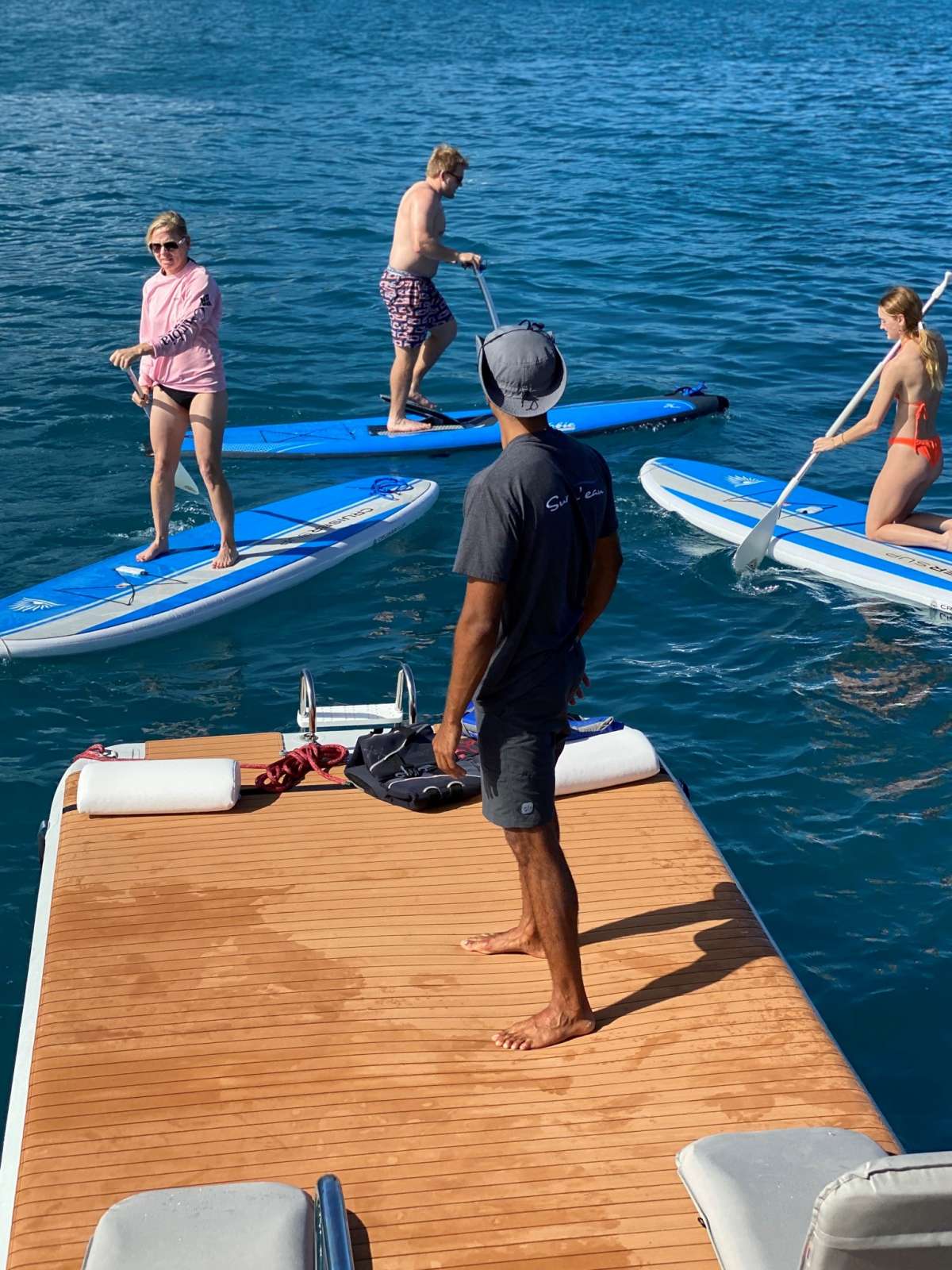 Sneed Yacht Charters.