Bahamas Yacht Charters by Sneed Charters
Sneed Yacht Charters.

(800) 581-7130 / (561)459-5316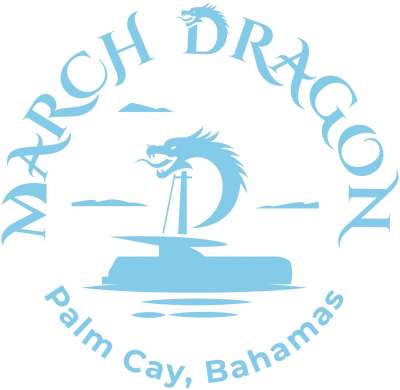 MARCH DRAGON GUESTS COMMENTS
"Extraordinary trip provided by an extraordinary team!" - Tripadvisor April 2021 by James O
Extraordinary! The crew, the yacht, the adventure - all exceeded our very high expectations. Stop looking and book this one while you can, you'll be so glad you did. I almost never write reviews, but for this trip I just had to!

We had a wonderful week with two couples in April, and it literally could not have been better. The captain was extremely safety conscious, personable and an outstanding sailor. The chef delighted us with the variety and quality of cuisine we enjoyed, as well as her true heart for service excellence. Really wonderful to leave these things to such capable and thoughtful people.

And of course the Exuma surroundings were beyond description. Water like glass, healthy fish life, loads of fun activities.

This would be an outstanding choice for a couple, a couple of couples, a few couples or a family. Again, just book it.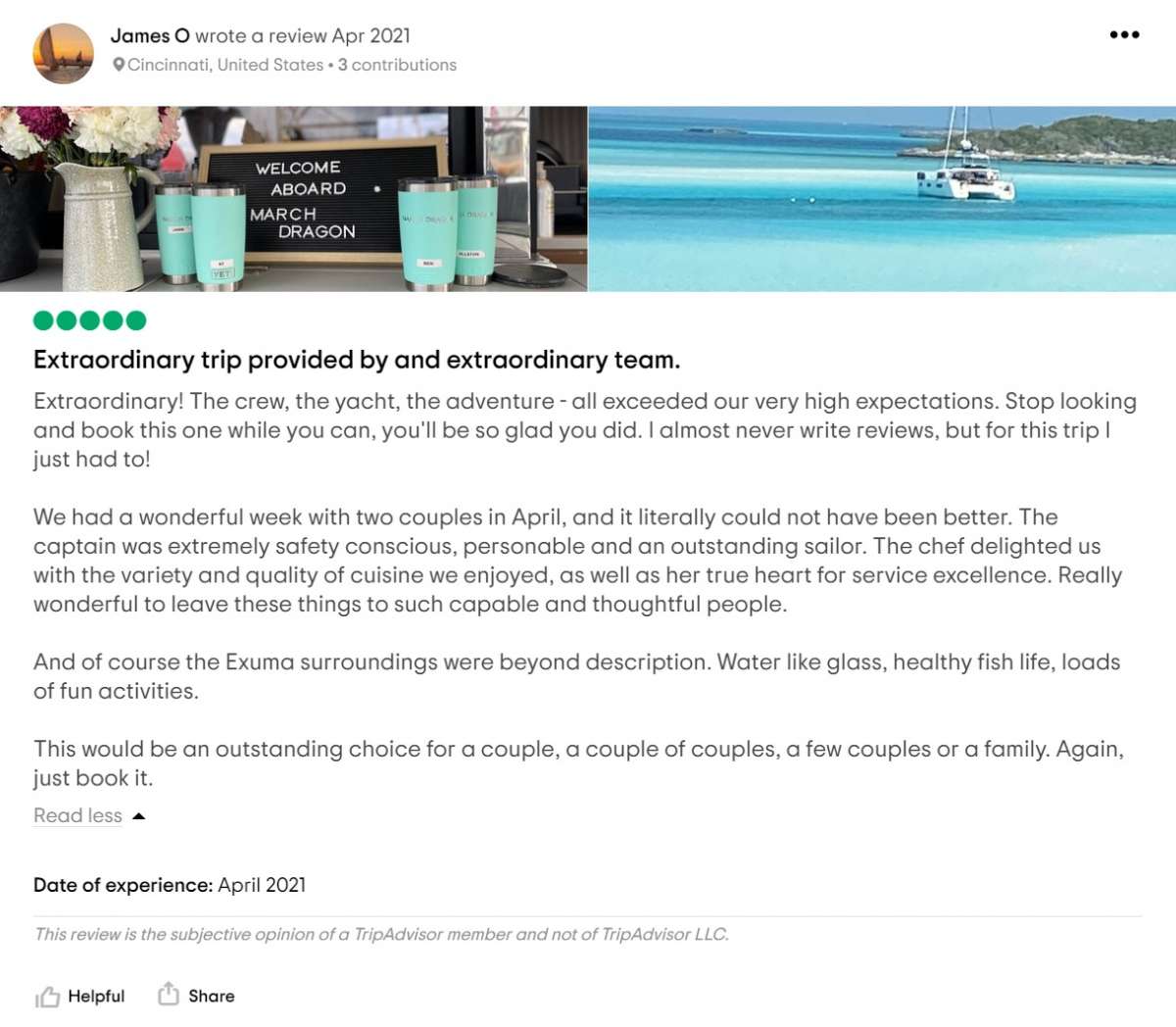 "Exumas dream trip!" - Tripadvisor March 2021 by Crystal C
From start to finish every detail was cared for meticulously. March dragon is a beautiful vessel and well equipped with lots of toys for fun! Chef provided excellent meals according to our preferences that were inventive and creative as well. We were able to experience many of the bucket list items the Exuma's offers. I can't say enough about how amazing this trip is and I will be booking again for sure!!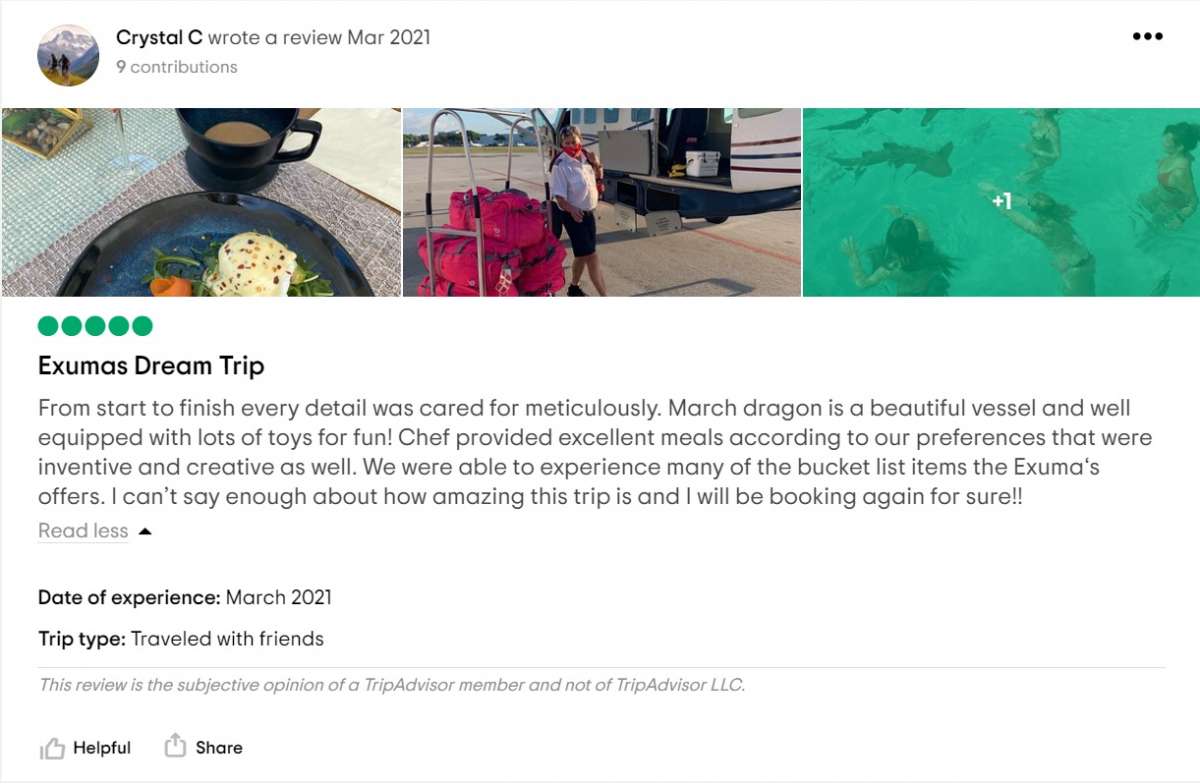 "Girls Trip!" - Tripadvisor March 2021 by Thao T
A diverse group of girls with intertwined lives getting together to celebrate wonderful friendship.
To start, writing this review for The March Dragon Charter is honestly an understatement to its maximum. I don't know if I can even rave about it enough because it deserves so much more praise than humanly possible.
It was so wonderful, I am going to have to break this up with every single possible facet that was meticulously planned for anyone to have the most perfect get away ♥️
Let's start with the Crew
- Janey is the chef on board and let me tell you, this woman will feed you in all the right ways. Not only is she mindful of what you need the ENTIRE time from food to drinks to overall comfort, she is just so creative and welcoming to feedback and just eager to create the most all encompassing pampered experience you want during the charter. She caters to everything and is prepared beforehand with your preferences! I mean, how much better can it get? And I haven't even gotten to the adventure part!!! Mouth watering Meals ranging from sea to land. Cocktails that will quench your thirst from all of the gasping you'll be doing watching the horizon everyday from this magnificent catamaran.
She was always smiling and always present to make sure you couldn't even feel like you had to look for something.
- Matt was the captain that made sure we got to experience everything our hearts desired. He was so kind and knowledgeable on all things sailing. For all of you who get a little scared of sailing, I wasn't worried even the tiniest bit from the moment we all said hello. He made sure we got to do every single adventurous and relaxing thing we dreamt of before this trip. He navigated perfectly through all weather conditions and still made time to cater to anything else we would need on the boat! It's like this two man crew didn't sleep because we sure didn't from all of the fun we were having!

For all of your curious minds on what this charter has to offer, here are some ♥️HIGHLIGHTS♥️
- We anchored in Highborn the first day and this two person crew welcomed us with flutes of champagne and their lovely personalities.
- We went to Saddle Cay to enjoy the endless blue waters near an abandoned pirate bar. We Basked in the sun and swam through the waters. The boat is fully stocked with games to play and water sports that will fulfill all of your daring needs. There is Tubing, Kymera Boards, paddle boards, and not to mention the goggles, flippers, wet suits, and so much more that were ready on the boat so you wouldn't have to bring your own!
- We continued onto Waderick Wells Cay to see the skeleton of a large sperm whale and got educated on the importance of keeping our waters clean to avoid harming the ocean's magnificent creatures ♥️
- Then it was off to Compass Cay to swim with nurse sharks! And what an unforgettable experience that was!
- We got to stargaze at night and my goodness, the sight was something more magical than I could have ever imagined
- They then took us to Big Major Cay to see the famous and adorable swimming pigs! They were so cute and just had babies!! We got to feed them and hang out with them next to those crystal clear waters and then it was off to Great Guana Cay for lunch on land at Lorraines. It had the most amazing deep fried conch that is a must try! Of course it was recommended by Janey so we knew it would be delicious.
- Our last adventure on the waters was to Thunderball Grotto which if you're a James Bond fan, you'll get to swim where some of it was filmed! The snorkels, flippers, and wet suits were all provided and we swam right into the caves. Talk about feeling like a real mermaid swimming with the beautiful fish all around us!
- Finally, we docked at Staniel Cay and spent our last night there. We had dinner at the Staniel Cay Yacht Club and there is a bar attached where we played pool, talked with the locals, had drinks, danced and just enjoyed the atmosphere that the island had to offer ♥️

Overall, this experience was just breath taking. It made me want to live my life on the waters! And not any charter can make you feel that way. March Dragon and it's crew is definitely the most fantastic charter there is and you don't want to miss your chance to book this with your friends and family♥️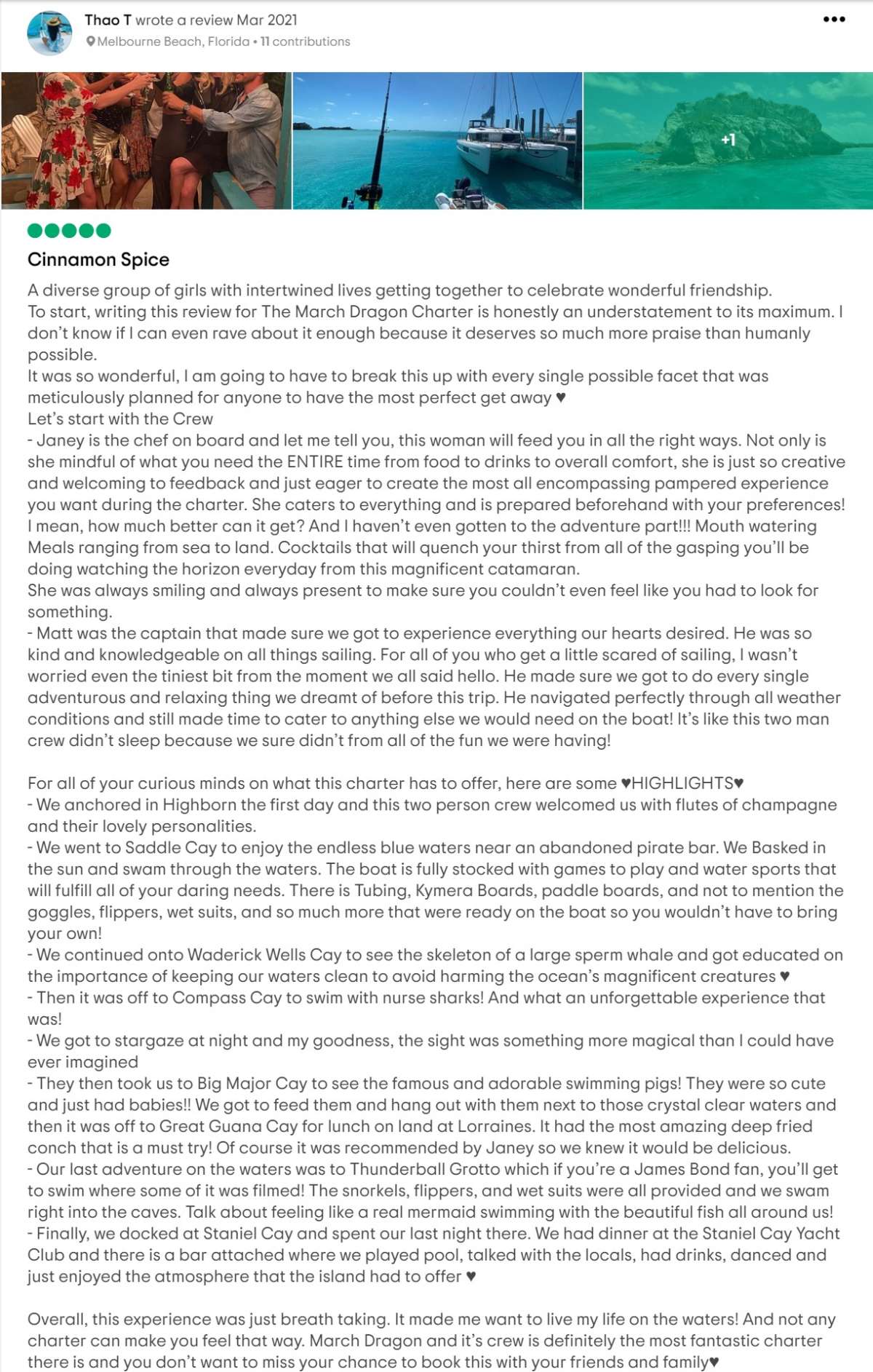 "Trip of a lifetime!" - Tripadvisor March 2021 by Theus34436
This trip was beyond spectacular. We sailed on the March Dragon for six days and five nights and I can't say enough good things about this adventure. We went swimming with nurse sharks and got to pet pigs on the beach. We went snorkeling in a grotto, tubing, paddle boarding and all the water sports our hearts desired. Onboard the Dragon we were treated like royalty. The food was amazing and the cocktails fabulous! The crew onboard were extraordinary hosts. Five stars seems insufficient.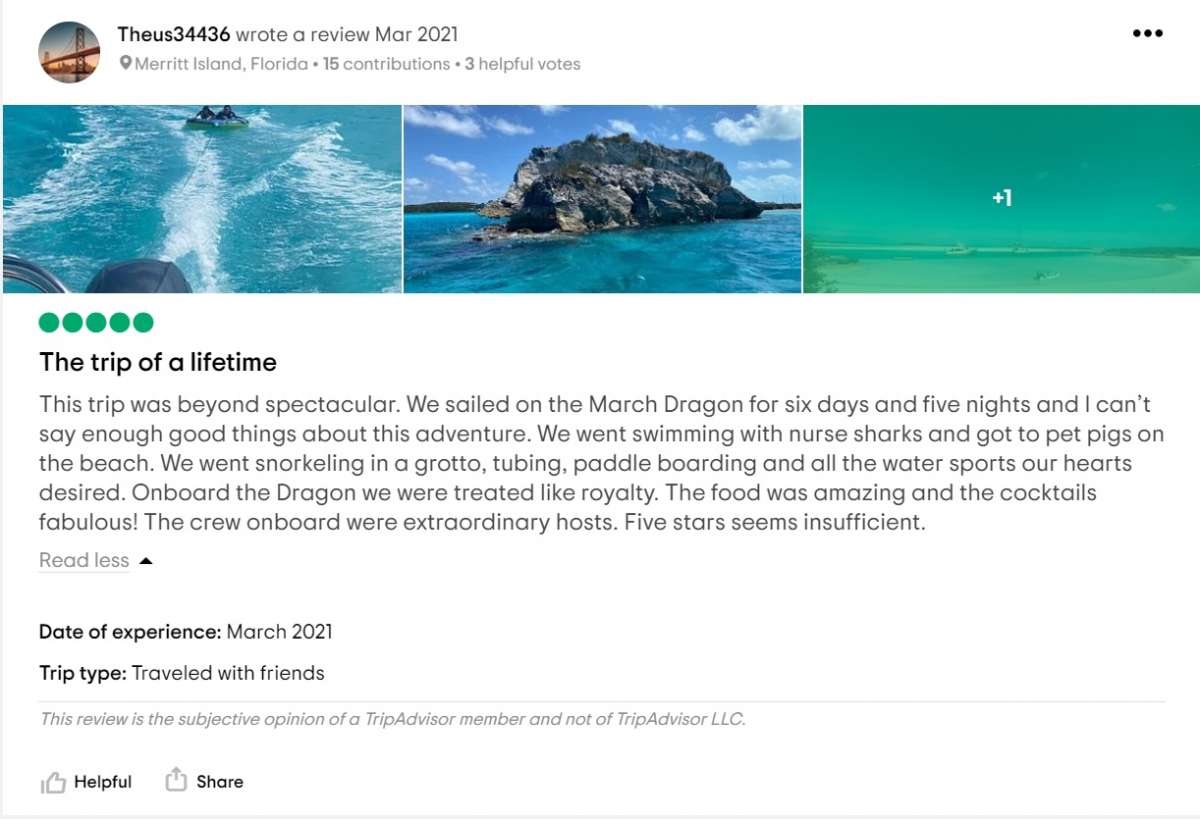 Amazing, yummy meals to my requirements
Isabel was an amazing hostess, she prepared all my meals with my specific dietary requirements, which meant I didn't have to worry about eating something which may have made me ill. This really made the experience for me. I had amazing, yummy meals to my requirements so I could just focus on having a good time. Isabel kept the yacht tidy and has such a lovely kind nature, making everyone feel welcomed and very much at home. I would recommend Isabel to my family and friends.

That's what you call a hostess with the mostest (talent and skill)
Isabel was such a sweetheart. Her food was so delicious! She cooked with love and made us all feel the warm welcome. She cooked a favorite meal for each person on the boat and didn't even realize it. That's what you call a hostess with the mostest (talent and skill)

Great knowledge about the different islands/restaurants/clubs!
I loved every second of Isabels presence this week. We communicated the whole week before our arrival and she helped us with any questions we might have had. Her cooking skills are amazing and she was able to cater and satisfy 8 different girls who all had different types of preferences. I was so impressed by the things she managed to cook in that small kitchen. She adapted from day to day as well as she learned what we liked for breakfast and there were always new exciting things to try on the breakfast buffet. Her attention to detail was so impressive. She had great knowledge about the different islands/restaurants/clubs! Love love love Isabel!

Sneed Yacht Charters.